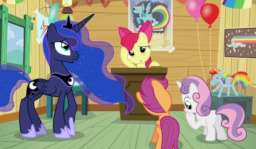 Source
A meeting between the Cutie Mark Crusaders goes awry as they fight over their sisters. Then Luna shows up, and well...Cute things happen.
Submission for the Abyss' Cute One Shot competition. Here's hoping it's good, I've never tried something like this before..
Notice: I just remembered I forgot to italicize and quote Luna's lullaby.

Anyway, that's fixed now, please let me know if I made any other mistakes!

Chapters (1)