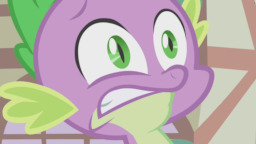 This is a side-story to "Making Adjustments"
---
Apple Bloom, Sweetie Belle, and Scootaloo have just returned to the clubhouse after their horrid run-in with Swift Gleam. As the three begin to recall the events, they start centering their thoughts around one of their rescuers, Spike, until they all get it in their heads that Spike is their dream dragon. Of course, three young mares can't share a dragon between themselves, so they make a game of it: First pony to get a kiss from Spike, wins the dragon.
However, what starts out as a silly game quickly turns into a fierce competition to win Spike's heart, and the poor lad is caught in the crossfire. Who among the Cutie Mark Crusaders will emerge victorious? Is there someone else in on the game as well? Does Spike get a say in any of this at all?
Run, little buddy, run.
Chapters (2)