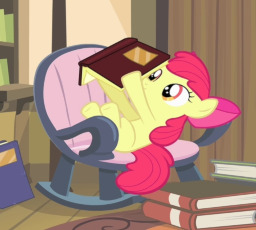 One rainy sets in motion a bout of boredom for young Apple Bloom. Her sister tells her to read a book. Grumbling that books aren't immersive Apple Bloom reluctantly agrees to do some reading.
But now she can't put it down and is now swept up in the life story of a mysterious little poet filly, with a rather excellent vocabulary and a quirky personality.
---
Proofread by an anonymous user.
Possible sequel. My attempt to write a story about a 'normal' pony as well as test out some other forms of writing. Vaguely complete. Sorry. Contribute to the TVTropes page!
Chapters (2)