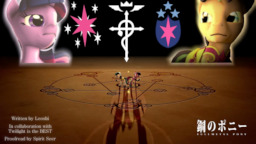 •Project dropped. See blog or PM for details.•
---
In this world, there exist ponies with special abilities to manipulate objects and transform one object into another. These ponies are known as alchemists. However, the process comes with a cost; the basic law of alchemy states that in order to gain something, you must sacrifice something of equal value.
Twilight Sparkle is one such alchemist, her talents renowned across the land. In an accident several years ago, she nearly lost her older brother, Shining Armor, due to a transmutation gone horribly wrong. Twilight's quick thinking allowed her to contain her brother's soul in his suit of armor, but only by paying a great price in exchange.
Now, to get back what they've lost, the siblings embark on a journey to find the elusive Alicorn Amulet, which is fabled to enhance the powers of alchemy...and bypass the Law of Equivalent Exchange.
An adaptation of MLP and Fullmetal Alchemist: Brotherhood, inspired by Argodaemon's exemplary video.
Rated for moderate violence, themes of mortality, and some language.
Written by Leoshi. Collaboration with Twilight is the BEST, proofread by Spirit Seer.
Previous pre-reading courtesy of Zo, Harmsy, and Famous.
Chapters (15)