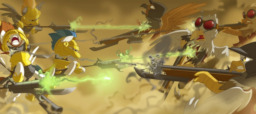 Source
Equestria, the bastion of peace and harmony of the world. The nation favored by Fate itself.
However, a discovery, a power hungry noble, and the death of a single Griffon breaks the chains of destiny.
Both sides have their heroes. Both sides have their villains. Both sides believe they are doing what is right.
Both sides may be wrong.
In either case, it is no longer up to Fate, but to the wings of War.
---
Edited by jeray2000 and WickedLSDragon
Inspired by the artwork and characters of Equestria-Pervails
Cover art by Equestria-Pervails
Chapters (7)