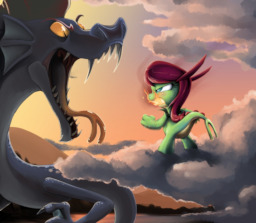 Source
*HIATUS UPDATE 10/15/2018: There is currently no set schedule for the remake of this story, but I assure you that it still has not been canceled. I get regular comments, favorites, and emails that all point towards this being a beloved story worth finishing, so one day I will do just that. Thank you all for your time and patience!*
Ever since they were little colts, the Flim Flam brothers had a dream; a dream to make a wondrous machine to set their lives on the fast track to success. The machine, known as the Super Speedy Cider Squeezy 6000, was missing just one component to make it all complete. Just one elusive item that no sane pony or pony with values would ever consider using:
Fresh dragon's breath.
Guess what I am.
I was taken from my home, my family, and my wings were slashed. I am no longer a person, I am simply a cog; a cog in the Super Speedy Cider Squeezy 6000.
This is the beginning of my wonderful tale.
~~~~~~~~~~~~~~~~~~~~~~~~~~~~~~~~~~~~~~~~~~~~~~~~~~~~~~
Honorary pre-reader as of chapter 10: aiovas. Official Editor: Thardoc. Thanks go to dmkamikazee of deviantart for cover art A! Thanks go to More Dakka for cover art B! A fan created art gallery for this story can be found here on my homepage!
Chapters (16)