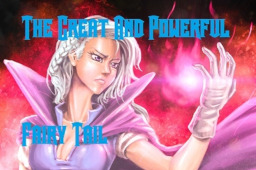 Source
Trixie Lulamoon... Sunset Shimmer... Lightning Dust and Princess Luna. Four Ponies that have walked very different paths yet all four of them have done terrible things that they're not Proud of; but things take a turn when a certain washed up show mare returns to Ponyville with one goal. Destroy the alicorn amulet so she can move on with her life and say that she's actually done something good with it.
As we all know, however, life likes to kick you in the teeth and throw you a curve ball you don't see coming. The curve ball in question? Take her quest born of desperation and have it lead her and her three new comrades to the wondrous and and wondrously dangerous world of Earthland.
They will learn, with a little help from Sunset, to deal with their strange new bodies and even their magic working differently as they are welcomed into Fairy Tail. Can these four ponies turned human wizards track down the dark amulet and put an end to the evil spirit that somehow lives within it? With the magic of friendship, and the firepower of Fairy Tail... even the impossible is possible.
chapter 5 undergoing rewrite to rectify glaring time-skip issue.

and chapter 14 in the works!
P.S. A big thanks to mrs1989 on Deviantart for the cover art!
Chapters (13)