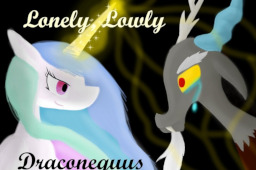 Discord is not the villain, not a monster as he is called, no Celestia, sun princess of Equestria, is far worse, in fact, she's the reason behind his existence, his need to spread chaos. Discord, a crooked immortal who only seeks balance.
(kind of similar to a free style poem, but it's not, some of it is meant to be as if it were a poem, but it is really a short, short, short story.
Also keep in mind that Fluttershy is only really hinted at and is only mentioned at the end, just as Luna is not a main concern of Discord's either, as he has his eyes, and revenge, on one pony in particular.
Chapters (1)