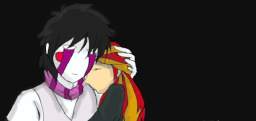 This story is a sequel to No strings attatched.....
---
Sunset has lost all hope. She supposedly lost her 'little brother' to Springtrap, and lost her friends to a rumor. Now she decides to end it all.... But before she can, a certain puppet pays her a visit.........
Cover art done by Feather Flyer. Thank you so much buddy!!!
Chapters (1)