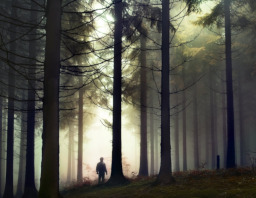 One moment he was in his bedroom, trying to get to sleep. The next, he's in a dark forest, with a moon that's twice the size it should be.
An ordinary man finds himself lost in a place with no memory of how he got there, thick darkness all about him and no idea where he is. Now he has to find food, shelter, and somehow a way home.
[Edit] Many spoilers in the comments, so approach with caution. Buuuut, I love comments, so don't be afraid to submit some!
Featured on December 22nd, 2015. An early Christmas present!
Chapters (26)