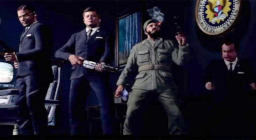 Welcome, to Canterlot Castle! Enjoy your stay! Oh, watch out for the dead men coming for you...HAHAHAHA!!
NOTE: For the record I will make this story's' chapters short. For the time being however, the next story will be everyone's, I'm guessing third, favorite map...ASCENSION!
NOTE 2: In the next story will be: Dempsey, Richtofen, Nikolai, Takeo, Twilight Sparkle, Pinkie Pie, Rainbow Dash, and Applejack.
Chapters (3)