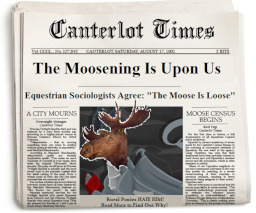 This story is a sequel to Dying to Get There
---
MOOSE CENSUS BEGINS.
FOR THE FIRST TIME IN HISTORY A FULL ENUMERATION OF ALL EQUESTRIAN CAPREOLINAE IS UNDERWAY.
To any normal citizen of Equestria, the secondary headline of the Canterlot Times is just filler to make the front page look denser and more important. To Special Agent Sweetie Drops, however, it's the beginning of a new task... and the nightmares to follow...
The Moose Is Loose.
Special thanks to Zaponator and Titanium Dragon.
Chapters (13)