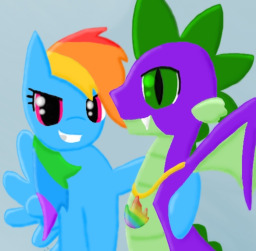 Spike never grew up with Twilight Sparkle. Instead, he grew up with Rainbow Dash, when his egg was literally dropped in front of her parents. As they grow up, the duo find comfort in a close brother and sister bond. With love, loss, and the general shenanigan or two, the duo will live as a shining testament to speed, wonderbolts, duct tape, ice cream eating contests, angry sharks, angry mares, angry fleas, uptight nobles, religious butterfly zealots, and a whole bunch of craziness that comes with living in Equestria.
Editing done by SpikeSupreme13, Jyggy, and Flutterbrony539. Thanks a lot guys!
Cover art made by Blueright! Thank you so much!
Chapter artwork also made by Blueright! Thank you so much!
Chapters (17)