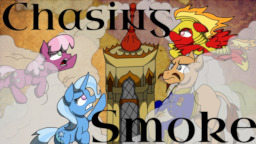 Source
Naqah, the land of camels and their elemental jinn. Among the thousand stories, told and retold in the markets and coffee houses of the land, is one of a bottled army made of smoke and fire forged in ages long past.
But now that civil war wracks the country, a new story is on the lips of Naqah's citizens. A tale of a mad solar alicorn that searches the mountains, plains and deserts of Naqah for the bottled army as part of her bid to overthrow Equestria. Corona, the Tyrant Sun.
Now Trixie Lulamoon, Element of Magic and her fellow Element Bearers must plunge into a nation far from home, in an attempt to deny Corona another tool in her arsenal to unleash against their homeland.
A Lunaverse story set in the Spring of Season 2.
Cover art by Multiversecruise
Chapters (6)