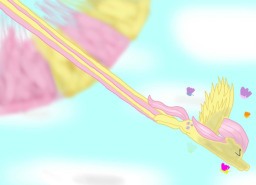 Source
What if Rainbow Dash never existed to turn six young lives upside down with her Sonic Rainboom?
Harmony will always find its Element-bearers, and something certainly would have united six friends to wield them ... but a change as small as the flapping of a butterfly's wings can have enormous effects on everything that follows.
* * *
Second-place winner in Skeeter the Lurker's "Switcheroo!" competition! This entry centers around the episode "Sonic Rainboom" (with influences from several others).
"Recommended" by Present Perfect: "Though this is well-worn material, the directions in which horizon takes it are remarkable. ... That alone makes it worth the read."
Reviewed by PaulAsaran: "horizon's re-imagining of Equestria is almost complete, defying the norms and tossing most of our expectations to the four winds. ... I am very impressed."
★★★★ rating by Louder Yay * Reviewed by Titanium Dragon
Chapters (3)