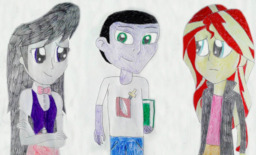 Source
Rough Draft is a senior in Canterlot High who writes Star Wars fan fiction and dreams of finding love. He's also the only person in the entire school who still doesn't believe that Sunset Shimmer is reformed even after she helped defeat the Dazzlings. While everyone praises Sunset Shimmer for becoming such a good person, he believes that deep down she's waiting for another oppertunity to strike. Why? He doesn't want to say. But things may be turning to look his way when his friends convince him to come to Pinkie Pie's party and he meets a certain cellist.
Set a couple of weeks after the events of Rainbow Rocks.
And if any of you are wondering, no; Rough Draft is not a self insert character.
Chapters (60)