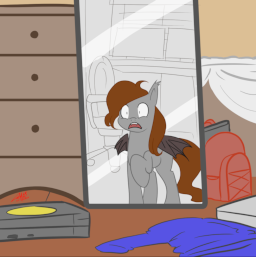 Waking up as a quadrupedal bat-pony hybrid would ruin most people's days. Mix that in with some gender change and you have a recipe for a really bad week. Then all you need to do is make everyone else disappear and most would start to think they have gone insane.
Well thankfully I was already mostly insane, so I should be fine. Follow along while I get used to a new body and try to make my way from Santa Clarita, California to Colorado Springs.
---
This story is part of the United Minds project for the Ponies After People group.
Written by Lightfox Lowell
Co-Written and Art by Neon Noble
Chapters (6)