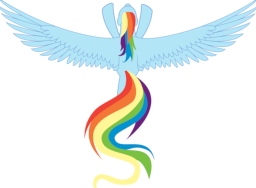 Source
Equestria has been invaded.
An old enemy has returned from the shadows, overthrowing civilizations, leaving ponies in terror, and the Princess of Friendship is imprisoned.
Now Rainbow Dash – element of Loyalty and former Wonderbolt – is trapped in the middle of a war, as leader of a Cloudsdale troop. It is not a role she ever wanted, but the brave pegasus will have nothing to go home to unless Equestria is made safe once again.
---
Proofread with the help of JP Sanders.
Artwork by UP1TER
Chapters (4)