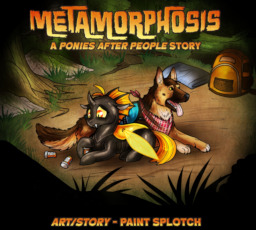 "As Gregor Samsa awoke one morning from uneasy dreams he found himself transformed in his bed into a gigantic insect."
― Franz Kafka, The Metamorphosis
Here I was, hiking the Appalachian Trail with my service dog, when everyone vanished in the night. Not only that, I've transformed into some bug monster. That...isn't going to help my mental problems very much. Now I got to find a way open up my prescription bottles with hooves. Will I even get more medicine? Is there anyone still around? What about my Grandmother? And I'm pretty sure I can hear stuff screaming and growling in the woods.
Getting home is going to be tough.
Part of the Ponies after People Universe. Rated Dark as this story will be visiting darker topics such as mental illness, death, and other unpleasant things. Illustrations and Cover, by me!
Edited and Pre-read by the wonderful Stahl and Courage. Awesome.
Superior ePub version by Phoen1x [9/28/15]
SoundTrack - Listen on 8TRACKS!
This is my first story I've written for the MLP fandom. Please feel free to offer up any critique or advice. They would be very much appreciated.

Featured on 9/9/2015! Yays :D
Chapters (11)