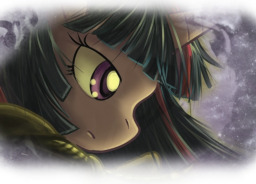 Side story to A little loopy.
---
In Starswirl's experiments he stumbled across a spell that created a stable time loop. Though initially unintended, he decided to take on some experiments.
Anything that was within the same room as him would not reset along with the loop, including ponies. And once Starswirl spends the end of a loop in a room to which somepony resets, well... poof. That pony's gone, forever, never to be heard from again.
But what if that's not the case? Maybe they're not gone forever, just, somewhere else. Clover the Clever happened to be one of those unfortunate ponies. ... I wonder where he is now.
---
Just a short little idea I had. I thought I'd just write it up and see where it goes.
Cover art based off of Twilight's Imagination by saturnspace.
Chapters (5)