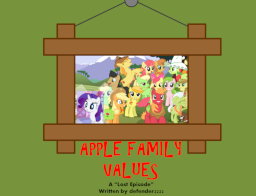 Source
"When Rarity finds herself homeless for a week Applejack happily extends an invitation for her to stay at Sweet Apple Acres. Applejack plans to use the time to show Rarity why the Apple Family is so great but as the week goes on it is Applejack who finds herself become more and more the outsider"
This one-shot was written as a challenge to myself. The goal was the create a 'lost episode' that could take place within the series cannon and feel like an actual episode of the show.
This fic is unconnected to any of my previous works.
A big thanks to CrowMagnon for beta-reading this!
Chapters (1)