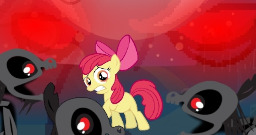 A fanmade sequel to Donitz's "Story of the Blanks".
As Nightmare Night approaches, an ancient evil, thought to be long gone, is breaking free from its prison to spread its curse. With time running out, and with one of their friends fallen victim to the dark side, the Mane Six and the CMC must find a way to stop the Villagers of Sunny Town, and their dark master, from conquering Ponyville, and worse....the world.
"You best start believing ghost stories my little ponies, cause you're in one."
Cover Art: Apple Bloom vector by BlindCaveSalamander
The red eyes in the background by zero-zivan(also here on FIMfiction.net, https://www.fimfiction.net/user/Zero+Zivan)
The Bone Fiends drawn are mine.
Chapters (4)