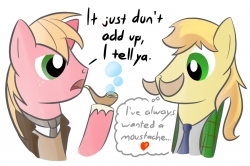 TWENTY MINUTES LEFT!
Who will win? You decide in this anthology of stories by the best of both boards. /co/ goes up against Ponychan at high noon, the best of the best writing under the prompt of a 'Big Mac Braeburn Western.'. Who wrote what? You won't know until the end of the competition one week from 11/15/11. In the mean time read the stories and tell us which ones are the creme of the crop, the board with the most high ranking stories is winner! The single highest rated story is champion! Who will it be? Read, vote and find out!
VOTE HERE:
http://www.surveymonkey.com/s/JW8T8LN
Comment ALWAYS appreciated.
Chapters (13)