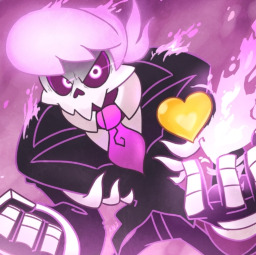 This is a story you may have heard before, a person dresses up for a convention as a character they like and they meet a man who gives them a strange trinket that transports them to equestria and ruins whatever life they were having, or making it better, depending on the situation.
I wanted to write this because I was, still am, addicted to Mystery Skulls Animation - Ghost by Mystery Ben. (https://www.youtube.com/watch?v=YlEb3L1PIco) I love the story it tells, even if it isn't a large one. Also pink flame hair is fabulous.
I decided to make this a displaced story because I've been reading a lot of them and I found it interesting so I thought I'd try my hand at it, please enjoy and go watch the animation, it is very well done, the song is also terrific.
Teen for swearing and mild sexual themes. Also violence, some of that too.
Chapters (3)