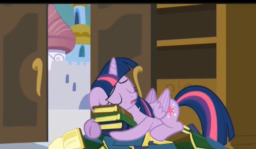 Twilight has worked herself clear to the point of exhaustion in order to set up The Grand Equestrian Summit in Canterlot. After she collapses, Spike is tasked by Cadence with the essential mission of making sure Twilight isn't disturbed while she catches up on the sleep she's missed.
When a herd of ponies come knocking at Twilight's door though, it falls to Spike to deal with them.
So, naturally, he does the smart thing and solves everything.
Chapters (1)