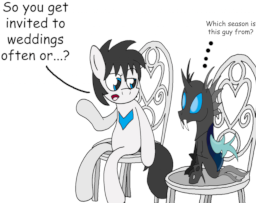 Source
POPULAR SECTION - 19th June Friday, 2015. Thank you everybody. You make me feel more awesome every day. One day, I'll be as awesome as you guys.
Aren't weddings nice and emotional? It's a blissful thing to see two lovers unite under a sworn oath of love and faith and loyalty.
But forget that soppy stuff. Let's move over to two random guests at Cranky and Matilda's wedding who are attending the special occasion...
Not my strongest fanfic shot, but...meh. Everyone pretty much milked the heck out of the 'Slice of Life' episode already, so whatever. XD
Chapters (1)