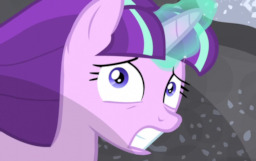 Source
When Starlight Glimmer escaped capture, everything that could've gone wrong did, in fact, go horribly wrong. Now, with a fatal wound and an indefinite time to live, an unlikely—and hideously unwanted—savior finds her.
The good news? She needs only to solve a riddle she's never heard before she bleeds out.
The bad news... well...
---
Rated 'Teen' for intensity and slight gore.
Enjoy!
And a special thanks to the ever-prodigious Pearple Prose, Dubs Rewatcher, cleverpun (bless your heart), and Idsterian for aiding and proofing for me in this quest for undisputed power story. You guys are just wonderful!
Featured 6/21/2015... Somehow... Huh.
Chapters (4)