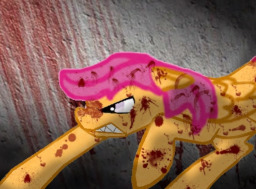 This story is a sequel to Pegasus Device
---
"I am the failure that you wanted to kill, and your sister that you could never harm."
"But..!"
"And I am here to take both of those away from you."
- Excerpt from Pegasus Device, by Aurora Dawn.
And so begins the next chapter. Scootaloo has finally ripped herself away from the Rainbow Factory. But the world she finds herself in is filled with a darkness deeper than she ever could have dreamed of. Now a new destiny awaits her far from the horrors of the Factory, far from the life she knew, and lies in wait in the darkness below.
Heavily recommended having read Rainbow Factory and Pegasus Device by Aurora Dawn before this as there are a few major spoilers.
Cover art not mine! PM me for proper credit!
Chapters (2)