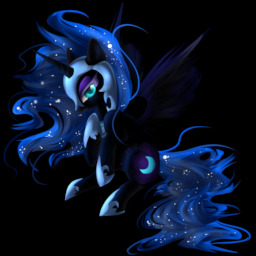 Source
I'm living the life, right? Well, I'm certainly living and I have part of a life, but together I think that's false. Not that I'm poor or sad or lonely or anything, I'm just sort of bored. So I do what everyone does when they want something and are too cheap or broke to buy it. I made a wish. But that big ball of cheese in the sky decided to turn red for the night. And in an alternate dimension some evil moon horse got shot with rainbow lasers. Guess where I am now.
And now I'm a horse that everyone in this crazy world wants dead. Or was I always Nightmare Moon? I can't tell the difference anymore.
~Notes~
-Gore tag is for some blood from mild violence and injuries. Nothing too major.
-Beautiful cover art by thechibicatz67
-Third rewrite going up now!!
Chapters (1)