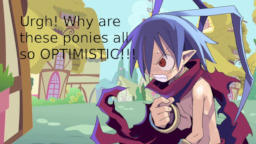 Displaced Story
I am Laharl and I am stuck in a museum in Canterlot…as a statue. It has been an eternity since I was turned into stone. Fully conscious to endure the mockery of these pony abominations. But I'm not imprisoned anymore. I managed to break out. You DON'T want to know how. I shudder at the memory.
But however…now behold, because the great and powerful Laharl is back! I'm going to build an army and free the one being in this world I trust the most. Afterwards I will crush the ones who imprisoned me.
Though I have to admit, that I was weakened through my imprisonment, which makes defeating the two sisters a real challenge. Or more of, I have to gather my strength first, before I can strike. They may be lucky for now, but I swear that I will get my revenge.
Hmhmhm… Haaahahahaha!!!!!
---
Yeah, this is a displaced story. The character has just gone crazy and thinks he is Laharl himself!

Cover art by myself. You could call it the usual, since it consists of two pictures chopped together to one. I'm just taking the easy way here.
Crossover: Disgaea
Chapters (12)