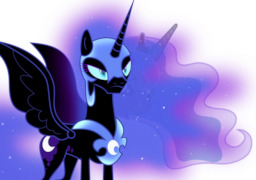 In a jealous rage, Princess Luna rebelled against her sister, embracing the darkness in herself readily. The newly transformed Nightmare Moon and Princess Celestia fought above the Castle of the Everfree; after an arduous battle, Celestia lay bested by the sister she'd fought so hard to keep under control. With no other choice available, Princess Celestia wielded the Elements of Harmony.
Now, Nightmare Moon rules over a dark Equestria. She finally has the power of which she'd dreamed for so long.
She only wishes she didn't feel so wrong inside.
---
Chapters (1)