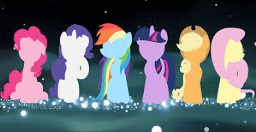 Starlight Glimmer had heard of the rumors. She thought it couldn't be possible, she had finished off those mares decades ago. But she had to come see it for herself...confirm those little rumors and put them to rest for good.
Unfortunately for Starlight, her return is exactly what they've been hoping for.
Inspired by the ending of FNAF 3.
Chapters (1)