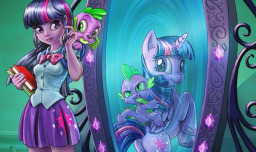 This story starts immediately after the events of Rainbow Rocks. I plan on following the lives of all the main characters through their final years at Canterlot High and beyond. We'll see how each one copes with dating, graduating, preparing for what comes after, and growing apart. I'll cover more of the girl's families and hopefully answer some questions not addressed in the movies (like where did Sunset Shimmer live and what did she do for money). Hopefully you enjoy.
8/22/15 I added the dark and gore tags for one passage in the chapter Time Passes Part 2. It's not super graphic and there won't be anymore passages like that, but I felt it was my responsibility to add these tags for the sake of anyone you might be sensitive to such things. I may edit that section later. If I do, I'll remove the tags. Until then, they'll stay.
9/13/15 I added the "sex" tag because there is one scene in "You Can't Judge Love Part 3" which some readers might find offensive. There is no, I repeat NO sex described in this story. Suggested, alluded to, but never, ever described in any detail. But I just want to make sure all my "I's" are dotted and "T's" crossed. Thank you.
Chapters (42)