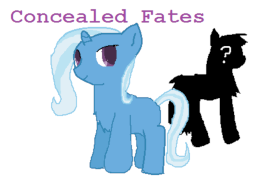 Two young ponies are stuck with a problem, this problem being a backfired spell. When the ponies are confronted with one thing they have never thought of facing other ponies are getting together.
They do not know that the failed spell will turn out to be an element of Harmony nor will they realize that it will save them from the fate of Equestria.
Join Trixie on her journey into life with her friends; Carrot-Top, Lyra, BonBon, Derpy Hooves, Doctor Whooves, Berry Punch and more on their [Mis]Adventures!
Chapters (2)