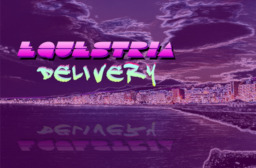 Source
Thematic crossover. Knowledge of source material unnecessary, but welcome.
---
"Dear Ditzy,
Sorry I haven't written to you in a while. I know you haven't been at peace since you moved out. How's the kid? Is Carol City treating you alright?
Moving there might have been a mistake. I doubt you can get much work there nowadays. But don't worry, I found something perfect for you. There's a nice place over at 45 Starling Avenue, waiting for a delivery. You'll need to wear something discreet. It's in the package I included with this letter.
Hope you have a great time!
Hugs and kisses,
Red Stamp
Assistant Manager, EQUESTRIA DELIVERY SERVICE CLIENT SUPPORT"
---
THE GORE TAG IS HERE FOR A REASON. THIS IS ON PAR WITH THE GAMES. It probably gets old faster, though.
Thematic crossover with the Hotline Miami game series. This story employs soundtrack links in the chapters. They occasionally break.
Things will get messy. Jacket will not have sex with the main protagonist.
Collaboration with Dark Avenger. Special thanks to several other people who aren't really here at Fimfiction.
Chapters (21)