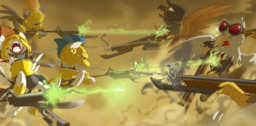 The Papers of one Lily, full name unknown, found by one Babs Seed of Manehattan. Found in the ruins of the Rockehoof Hotel on the last day of the Griffon Occupation of the city, an eyewitness account of the sorrows of the Long Night after Celestia left Equestria and went West. Held together with rubberbands and a few paperclips. Written on a variety of different kinds of paper. The back is bare except for splotches of blood and candlewax. The front bears the message:
I have only one song and I sang it for you.
A Sidestory to The Night is Passing , also found on Equestria Daily.
Chapters (1)