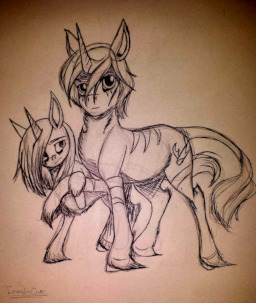 Source
An unlikely pair of ponies meet sometime after a mysterious plague wipes out most of Pony-Kind. Thalia, a shy and somewhat sheltered Unicorn meets another of her kind, who at first is not keen on the idea of her tagging along with him, but they soon grow a bond and begin to uncover the truth about what caused the sudden collapse of pony society.
So myself and my buddy Tairaisvuroium started a new RP based on a post apocalyptic version of the MLP world. This is our first post. The result of a full solid night of work. :work: A lot of unexplained themes in this I know, but I've always thought that exactly what a first chapter should do, as I stated in my S5 Season Opener Analysis.
Lemmie know what you think.
Midnight Shadow ©: SoulDragonWithFlow
Thalia ©: Tairaisvuroium
Survivors ©: souldragonwithflow & Tairaisvuroium
MLP:FIM ©: Hasbro
Chapters (1)