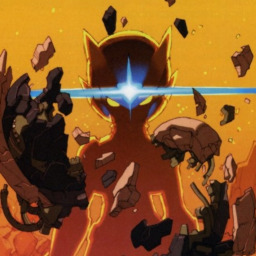 This story is non-canon to the 'Your Human and You'-Verse, as created by MadMaxtheBlack. Any and all copyrights belong to their respective owners. The artwork is not mine either.
1247 years ago, I was sent to this hellhole of a planet by that Merchant bastard, simply because I wouldn't be his little puppet. From there, though, I was made into a puppet hunter for that amalgamation of chaos, killing any who opposed him until the Princesses turned me into stone with the Elements, freeing me from his manipulations in the process.
However, that does not excuse them for what they did!
Now that I am free, though, I promise this: I will restore mankind to how it should be, and bring forth an era that the ponies couldn't even dream of.
For I am the Messiah, and the God of Destruction.
My name is Randy M. Ageddon, and I. AM. OMEGA!!!
---
Crossover with the Megaman Zero Series.
This fic is a Displaced fic.
Based on Your Human and You, with permission from MadMaxtheBlack.
Chapters (1)