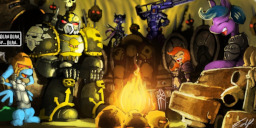 Welcome to The Age of Iron.
These are just a collection of stories and thoughts that have passed through my head while following the extensive Iron Hearts series created by SFaccountant.
Some of these may have some veil of truth to them. Others are nothing more than a curious daydream. Who knows?
These will range from serious tales to the downright silly. So hopefully, you have an attitude for both.
If anything could possibly take place in the main story I will try to list where and when.
Special Thanks to Nightweaver for proofreading and edits.
Special thanks to MarxyHooves for proofreading and edits.
Tags will change as necessary.
Chapters (6)