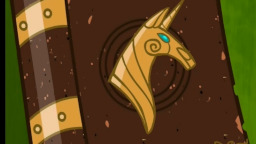 Legends always persist, no matter how much you want them to leave.
As Twilight Sparkle starts to adapt to her new life as a princess, a familiar face arrives in ponyville. He may be one of her worst enemies, but he may just be the string that can unravel a thousand old conspiracy. One that hides under everyone's noses.
Sombra has been on the run. With his empire gone and his magic fleeting away, he must find his amulet that could return him to his former glory. But with a princess that could blast him if he showed any signs of evil, he finds it quite the task. As he tries to hide his identity, he starts to question whether what he used to have is what he really wants.
Teen for swearing and violence, the beginning is set around the middle of season five, with it's own spins on continuity.
On hiatus until further notice.
Chapters (28)