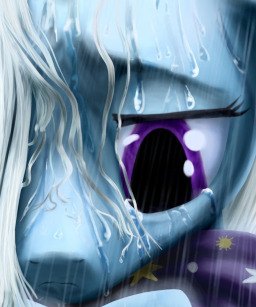 Source
Feedback is appreciated! So click that thumbs up if you liked it! If not, tell me why constructively so I can learn!
AU with canon from S1-S5 intertwined
image by this artist: rautakoura Go check out their works!
Two-years after Tirek's defeat, an old acquaintance returns to Ponyville and sets up shop. Trixie Lulamoon, a twice-felled show mare with a boastful ego, comes to her rival seeking to become a better mare by learning the ways of Friendship.
But is that the only reason for Trixie's wanting to change, or could there be something deeper behind her reason?
Will Twilight and her friends be able to help Trixie change, or will she be herself through-and-through?
Much thanks to 0_0 for proofreading every chapter!
Beware of spoilers in the comments! It's no fun ruining an unread story for yourself, right?

Chapters (6)