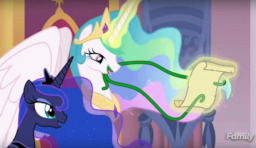 Equestria is still recovering from the effects of Discord's tainted tea. The air of calm determination from the princesses has prevented chaos in their panicky pony population. Now is the time to move forward and adapt to these changes, either one's own or those of family, friends and neighbors.
---
Mostly a bunch of small ideas packed together. Don't expect a solid and compelling storyline.
It's not necessary but helps if you read 'And Thus, I Became the Tatzlprincess' or at least know what a tatzlpony is.
Tagged sex for a few small jokes.
Chapters (6)