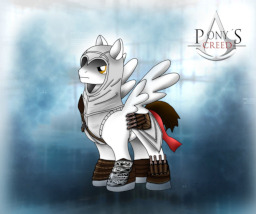 Source
I'm Altair. I used to be a human assassin, but I'm a pony now. But this didn't happen for no reason. It all happened on August 7th, the day the Templars discovered a new form of weaponry. It lead to a turn of events that turned me into a pony. But as a pony, I've learned a skill of some sort. I'm not too good at it yet, but the other ponies here call it the Magic of Friendship.
Rated Teen for Interrupted Swearing.
Warning! This will eventually involve shipping. Don't argue that I should've used a ship you like. I'll use my preferences.
Chapters (1)