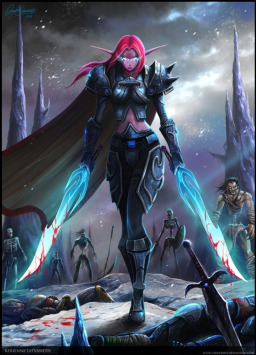 Source
This story is a sequel to The Darker Side of Life
---
Shea was a young Night Elf that was killed by Celestia because of the dark magic living inside her. She wakes up a thousand years later to find a shattered kingdom named Equestria ruled by a Sith Lord known as Folteren. What will she do? What any Undead Night Elf from another dimension that can't remember her past would do.
Walk around aimlessly until she finds a graveyard. Then sets up shop.
"Who the heck would name themselves Fotlen?"
And Folteren has to deal with a rebellion, commended by some... Flash Century? And his old friend, Jackie, or as she likes to call herself: Bastila Shan. Plus, the dead are rising.
Crap, he just got the throne!
Oh, and Whitney's back. Joy.
He'll also have to deal with something he never thought of before... His immortality.
"Waffles! Get down from there!"
---
Rating changed due to changes in the story.
Chapters (4)