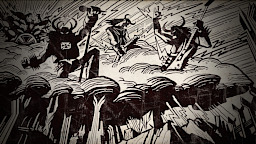 Living life is hard, especially when you're a recently reformed supervillain with no prospects, no money, and nothing but a lot of pent up energy and anger.
So what do you do?
Start a heavy metal band, of course.
The music may be said to split the earth and raise the dead, but it's better than the crap on the radio these days.
Oh, heads up, this is a humanized story.
Also I rule 63'd Discord and Luna in this story because it's more interesting.
If that makes you sperg out, oops.
Chapters (25)