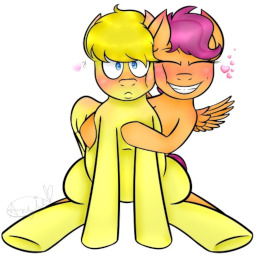 Source
This story is a sequel to Just Big Boned
---
Hi, I'm Butterball. It's been six months since I last moved to Ponyville and things have been going better than I'd first expected. I've lost some weight, made a lot of friends, and I'm on an ongoing crusade to get my cutie mark with my three best friends. To top it all off, it's the first day of summer vacation! And I'm going to my first sleepover! This is going to be awesome!
Agh, Scootaloo's looking at me weird again. Her face is all red and she's avoiding eye contact. She says that her allergies are acting up again.
Come to think of it, she only gets allergies when I'm around.
Is she allergic to me?
Chapters (7)