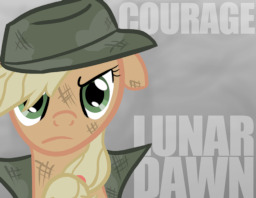 Five years have passed since the division of Equestria, yet it seemed like eternity. After being forced to divide the lands with her sister after an uprising all those years ago, Celestia hoped that one day, the states would reunite. However, things have turned to the worst.
In the town of Ponyville, nine rather notable friends find that a new kind of war was coming to Equestria, and in their own hometown. When invasion starts, they escape their town, in hopes of finding refuge outside in the wilderness. Now, with tasked to survive after their escape, the Mane 6 and the CMC learn that their friendship was not just magic now: it's necessary for survival. With the Lunars tyranically ruling their town, the nine also must fight off these new invaders, and drive them back to where they came.
Inspired by the 1984 war film, "Red Dawn", "Lunar Dawn" is a loose adaptation that will leave an impression on those who read it. A long read to be sure (divided into five parts), this story brings the tragic life of a freindship at war. Hopefully, it will be enjoyed by many.
future cover art provided by BlockEraser (aka Gigatoast)
Chapters (5)