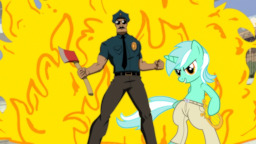 One day at The Con, The Guy dressed as The Cop found the perfect axe. That was the day he became AXE COP!
"I need a partner now." So Axe Cop had tryouts and hired a partner.
"My name is Lyra!"
"Sign up here Harp Cop, we have a gang of changelings to kill."
So the new team went into the land of snobby rich ponies and fought the gang of changelings with their axe and harp.
"I WILL CHOP YOUR HEAD OFF!"
So they cut the Changeling Queen's head off, then devised a plan.
"We should put this head on a stick and hide bombs in it."
But Harp Cop got changeling blood on her. "I feel strange..."
The changeling blood caused Harp Cop to unexpectedly transform into a changeling soldier!
And so they became Axe Cop and Changeling Soldier!
Chapters (6)