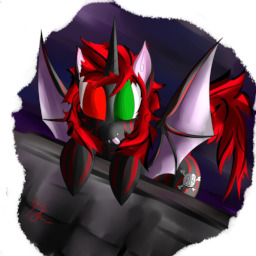 Nightblade Bloodmoon:
Half-alicorn, half-zebra, half-changeling. One-hundred percent awesome and irresistible.
Nigel M Chalmers:
Does not want anything to do with her.
Follow Nigel on his quest as he attempts to shake off Nightblade, while also navigating around a foreign world.
Join Nightblade as she attempts to woo him, aided by her mysterious powers of infallibility.
Wonder just how Twilight Sparkle will deal with not one, but two unknown creatures as they cause unintentional havoc upon a peaceful Equestria.
Laugh on as I sink to a brand new low as an author.
What more could you want?
(Twilight appears in the second chapter, as I saw the word count and just had to keep it.)
Chapters (3)