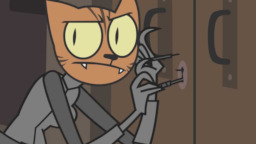 Source
"Dovahkiin, Dovahkiin
naal ok zin los vahriin
wah dein vokul mahfaeraak ahst vaal!
Ahrk fin norok paal graan
fod nust hon zindro zaan
Dovahkiin, fah hin kogaan mu draal!"
Except, not really. Meet Jo'hira, former human, current Khajiit (Though Akatosh knows that she's called up the race menu enough times to change that around way too much), and dragon whisperer (shouter, more like it). She's been around for over a thousand years for some reason, and she's a little bit loopy with it. The six hundred years spent in the woods doing nothing but talking to dragons may have something to do with it.
That, or it was the repeated trips to the Soul Cairn and Sovngarde. Maybe both, but she won't tell.
(Featured 1/6/2016. Well holy shit.)
Chapters (5)